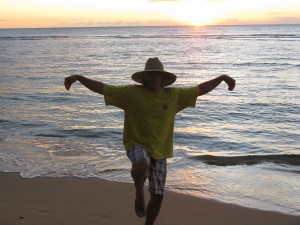 Sifu: Traditionally, in Chinese martial arts, "sifu" is used as a sign of respect for a teacher or instructor when in a teacher / student relationship…
So how exactly does a guy who started his life in the martial arts end up with a website and podcast dedicated to teaching others about water treatment and distribution?  Truth is, sometimes I even have to ask myself that question.  But regardless of the road that brought me here, I love being here!
The answer really is a simple one.  I love to learn.  I love to teach.  I love to help others.  I have run into so many people that need help with this subject, whose careers hinge on whether or not they can grasp the necessary knowledge, and I feel honored to be able to help them.
I started in the water industry in '98, in northern California, when I was hired by San Jose Water, one of the nations largest and premier water utilities.  In the fourteen years that I spent with them, I really feel that I got a taste of everything.  I spent three and a half years in the maintenance department, repairing mains, services, hydrants, gate valves, air valves, or any other property which was leaking or otherwise not working properly.  I spent three and a half years in the service department, where I responded to emergency calls.  I also helped consumers with concerns regarding water quality, pressure issues, billing, meter accuracy, leaks to their personal lines, or any other general issues related to their service.  I spent seven years working as a system operator, basically running the system and ensuring that everything was operating smoothly… overseeing the water that goes to the treatment plants, the water that comes from the treatment plants, and ground water that pumps from wells into the system.  My typical duties as a system operator included inspecting stations, checking chlorine residuals, dosing tanks, managing pump operations, and anything else that may arise, all while using a SCADA program to operate the system and ensure things are running at peak performance.  During my time in operations, I was also fortunate enough to be able to spend time learning and operating our two water treatment plants (A 30  MGD direct filtration plant and a 5 MGD mircrofiltration plant).  In 2012 I left San Jose Water to accept a position operating a 40 MGD membrane filtration plant, which was closer to my home and allowed me to continue to expand my knowledge on the treatment end of the industry.
My journey in attaining "book knowledge" started about nine years ago, when my company was almost sold.  Things were up in the air about jobs and the future wasn't so certain.  I wanted to kick myself for not having taken advantage of my companies opportunities for growth, and I hadn't attained any state certifications to make myself marketable.  I felt like I was vulnerable in the job market, and although the buy out fell through, my resolve to better myself did not.  I began studying to attain state certifications, earned my Treatment 2, and came to operations, where I went on the earn my Treatment 3.  Since I was studying for Treatment certifications, I decided I might as well study and test for my Distribution certifications as well.  Once started down this path, I just kept working on the next goal.  I currently hold a Distribution 5 and a Treatment 4.  (For more info on certification, see podcast episode #2)
In California, the five is as high as it gets.  I believe was the only union employee at my company ever to pass the Distribution 5 exam, and when word got around, people began to ask for help with questions they had.  I decided to teach a beginning class on water treatment & distribution math, and it went very well.  People that had failed tests two and three times passed on their next attempt.  (The same course is now available from this site under "Math DVDs".)  It went so well that I was asked to teach it again.  I accepted and offered to teach an entire distribution exam review.  The rest is history.
I bought an iPhone, began listening to podcasts, and loved them, finding the good ones to be both very informative and entertaining.  I thought back to all the days I would sit in traffic flipping through my flash cards and wishing i had some sort of audio file to listen to, that could help me review and learn the industry.  Creating a podcast seemed like a great way to get information out to a lot of people who might need it while at the same time having a lot of fun and learning myself.
I love the feeling of helping others to grasp things they were previously not grasping, and to be able to feel their confidence grow.  I love to see them accomplish things they did not think they could do, and watch them feel better about themselves for having done it.  I'm hoping that this site, the podcast, and these videos provide very helpful tools to point people in the right direction with their careers and to help them realize their goals, while at the same time being fun and entertaining.
Thanks,
Ty Whitman