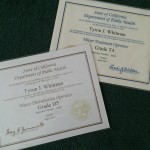 Water Sifu Episode 2 – Water Treatment / Distribution Operator Certification
(click to listen in new window)
In this episode of The Water Sifu, I concentrate our discussion on Operator Certification.  I will discuss why you want to get certified, how to get certified, how to keep your certification, and how to move up the certification ranks, using California as a guideline.
Even though the overall certification process is similar and the exam questions all cover the same subjects, every state can vary a little by what they call the different levels of certification and the exact requirements for certification.  If you are outside of California, please look up your state on the links page of this website for the exact requirements in your state.  Even if you live outside California, you will still get a good look into how the process works, which will provide a good base of knowledge.
I also discuss water treatment and distribution training courses, exam testing, continuing education requirements, and reciprocity between states.
Podcast: Play in new window | Download