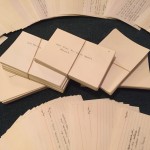 Water Treatment Exam Prep
(click to listen in a new window)
I think that creating and using flash cards is an incredible tool for ingraining the knowledge when studying for your water treatment or distribution exams.  A major stray from my normal show type, this week will basically be a "study guide on the go" for people testing for a Treatment Exam.  Think of this weeks show as audio flash cards… which is essentially what it is.
Podcast: Play in new window | Download