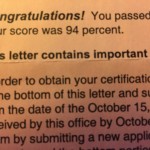 Passing your Water Treatment or Water Distribution Exam
(click to listen in a new window)
In this podcast I share my advice on how to best improve your chances of success on your water treatment and water distribution exams.  From exam prep, to what to study, to where to find the best study materials, to how to study, and how to test, this podcast has it all.
The following link will help you to best use the material on this site to prepare for your treatment or distribution exams.
Unfortunately, since recording this podcast, the Minnesota Rural Water Assn has taken down their free practice exams.
Podcast: Play in new window | Download