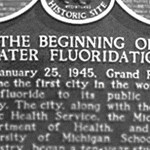 Water Sifu #7:  The History of Fluoridation (Part 2 of 4)
(click to listen in a new window)
The History of Fluoridation is the subject of this weeks episode.  In an attempt to fill in some huge gaps in the history of fluoridation, as told by promoting groups, I delved deep into this subject.  My research took me into some pretty creepy and unexpected places.  From the influence of big business in early research and promotion, to the selling of fluoridation to the public, to growing trends against fluoridation, this episode is an eye-opening, must-listen-to, podcast.
Some great links to view, along with this podcast are listed below:
The Fluoride Deception: This is a three part you tube video (this link will take you to part one)  which explains in depth the connection between fluoridation and big business from it's very inception.
Although this article conveniently leaves out any reference to ALCOA, or any mention of Gerald Cox, who was the first to actually suggest fluoridation of the drinking water supply (see History, in the CDC Manual on fluoridation:  Link in show notes for part one), this is the best history statement I have found as told from a pro / neutral standpoint.
The following link, will take you to a statement by the EPA's Scientists Union's statement, as stated in the podcast, which came out publicly against fluoridation.
Podcast: Play in new window | Download