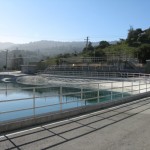 Water Sifu Episode 3 – Water Treatment Overview
(click to listen in a new window)
Water Treatment is the subject of this weeks episode, with an emphasis on Conventional Treatment.  We will follow water from the moment it enters the plant as it travels through pre-disinfection and into the flash mixer where coagulation occurs.  From there we follow it's path through the flocculation basins, the sedimentation basin, the filter beds, and into the clear wells where it will be ready for consumption.  We will also briefly discuss direct filtration and micro filtration.
Podcast: Play in new window | Download